RevelationMedia is creating the world's first animation of the complete Biblical narrative, revealing the single story of the Holy Bible and God's redemptive plan for mankind.
Help produce THE ANIMATED BIBLE SERIES. Become a Member today with a monthly contribution. As the series is complete it will be translated into the top 100 languages of the world and freely distributed to the global missions community.
The time has come to bring a visual Bible to the world.
One that cannot be confiscated. Cannot be destroyed. Is free to reproduce and presents the entire Bible.

Episode 1: The Creation is complete. Episode 2: The Great Flood and Episode 3: Sodom and Gomorrah are in production.
Become a Member today with a monthly contribution. (Select amount below.) You will receive a free copy of Episode 1: The Creation and each new episode as they are completed.
Become a Member Today.
Help Create the World's First Visual Bible Free to the World!
*All donations are tax deductible to the extent provided by law.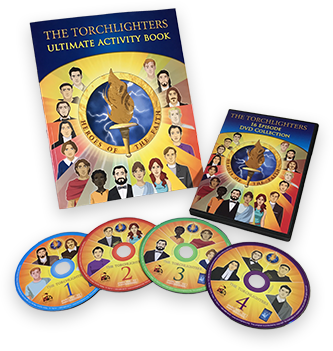 Receive Your Free Gift!
For a limited time, when you become a member of the RevelationMedia family, with a monthly contribution of $35 or more, you will receive a FREE Torchlighters DVD Gift Set. These award-winning episodes highlight the testimonies of Christian heroes of faith and are sure to inspire your children or grandchildren. A $250 value, our gift to you in appreciation of joining the RevelationMedia family!
"The highest praise I can give for what I have seen of The Animated Bible Series is that it is both Biblical and beautiful - a rare and wonderful combination."

—Randy Alcorn
50 Episodes. 100 Languages.
The Whole Story!
The World's First Visual Narrative of the Entire Bible
From Creation to the Second Coming of the Christ and His Final Revelation.
There are lots of stories based on the Bible. However, The Animated Bible Series utilizes over 90% Scripture and follows the events of the Bible episodically and in chronological order from Genesis to Revelation. It is a teaching tool to reach the next generation for Christ while giving them a firm foundation of God's redemptive plan as revealed in the entire Bible.
When you become a Member, you are joining our team and ensuring production, translations and distribution can continue to go forth. Those who pledge also receive FREE access to RevelationMedia's Digital Theater along with a backstage pass, for an insider's look into every new production (Coming Soon). RevelationMedia Digital Theater where you will watch each episode come to life.
Kingdom Minded Media. Engaging. Accessible.
RevelationMedia is equipping and empowering the Global Missions Community with culturally relevant content that break the barriers of engagement.