RevelationMedia Presents a Special Event Featuring:
Selections from the Evensong Concert

with Keith and Kristyn Getty
In the ancient tradition of Evensong, the church lifts its eyes from a troubled day and turns its heart to face the Lord in worship. The Evensong project by Keith and Kristyn Getty is an echo of that precious tradition, born from the thoughts and conversations, prayers and songs that fill their home, particularly when the sun goes down. We pray that this special presentation with an exciting selection from the Evensong concert will help you feel the peace of Christ wherever you are. And may the CD help you carry that peace into any difficult and weary moments of the days and years ahead.
"We would encourage you to get involved to get this wonderful resource into the hands of as many families as we can. So, get involved prayerfully, financially, following along with all that RevelationMedia are doing with this wonderful resource."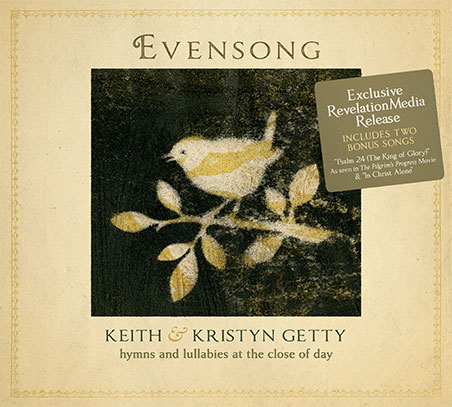 Support RevelationMedia and Receive a FREE Evensong CD!
When you support RevelationMedia and the production of the new devotional resource The 16 Worlds of The Pilgrim's Progress, you will receive a special edition of Keith and Kristyn's newest CD, Evensong.
Please prayerfully consider your generous contribution. Your support will help us reach our children, grandchildren and the global missions community with Christ-centered discipleship content to help us all stay on the straight path.
Evensong is an amazing collection of hymns and lullabies for young and old alike. The week of its debut, Evensong hit #1 on the Billboard Charts, replacing Frozen 2 in its category! We know your entire family will be blessed by this spiritually uplifting CD. Along with the Evensong CD, you will receive two bonus songs, AND links to watch the Evensong concert online and to download the music.
Make a Donation and Receive Your FREE EVENSONG CD
Support the ministry of RevelationMedia today and receive a special edition of the Evensong CD including two bonus songs "In Christ Alone," and "Psalm 24 (The King of Glory)," along with digital downloads of the full CD!
*All donations are tax deductible to the extent provided by law.